July 7th, 2009
Many who call us at Ecovita report they have composting toilets that aren't keeping up with liquids. After dealing with a swampy composting toilet, these callers see the value of diverting urine from the composter.
Here, we will detail ways to deal with a too-wet composting toilet, using a real-life example: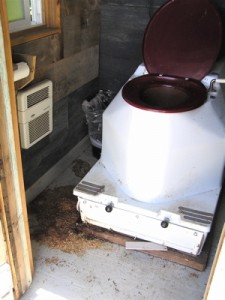 Eva was given an older but never-used Humus 90 composting toilet to use as a toilet for a few workers and visitors to at her gardens. For the past two years, the toilet has leaked brown liquid. (We call this leachate.)
This toilet actually worked pretty well when I first saw it in 2006. The Humus 90 was a decent model in its day: Nice and large, with a strong heater and fan. (The Humus 90 later changed designs and was ultimately renamed "Biolet"–aka "Mulltoa" in Europe and another name in Canada.)
Many of our customers replace their composting toilets with a urine-diverting composting toilet from Ecovita. However, although we at Ecovita love to sell our toilets, we hate to see a big piece of plastic wasted. 
Here's what to do if you are in the same situation:
1. Check to see if the fan and heater are working.
If you can't hear a fan, place a burning incense stick or smoking match in the toilet and check to see that the smoke goes up the vent stack.
In this case, a timer put on the unit was likely preventing the fan from working. The fan is super-powered, using a lot of electricity.  I can't tell if the heater is working. If the fan and heater are not working, replace them.
2. Divert urine?
Many customers ask if the Privy Kit will fit in an existing manufactured composting toilet (such as Envirolet, SunMar, BioLet, etc.). Usually the answer is no; it is too large.
Just to complicate things: The  child's seat of the Separett Villa will fit over most composting toilet openings, but it is meant for small bodies. You will also need clearance for a urine line. That is nearly impossible on a Sun-Mar.
We solved this leaking toilet problem with four other fixes to be described in posts on this site over the next two weeks.
Filed under
How to
|
Comments Off

on How to fix a leaking (other brand) composting toilet: Pt. 1 of 5