May 30th, 2009
Ecovita recently was noted in several publications and affiliated blogs, including: 
The Lowell Sun, Popular Mechanics, The Christian Science Monitor, and World Changing
Filed under
Ecovita, Media mentions
|
Comments Off

on More mentions in the media
May 19th, 2009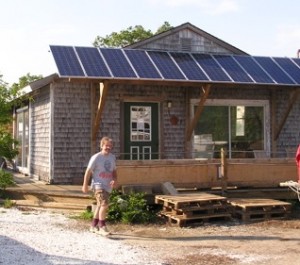 After two years on historic Fish Island in New Bedford (Mass.), and four years in historic Concord (Mass.) before that, we moved Ecovita again. This time we're in the solar- and wind-powered building that also houses Cotuit Solar at 3800 Route 28, Cotuit, Massachusetts on Cape Cod.
Moving to Cotuit Solar required moving some boats to make way for our stock of toilets and urinals for 2009. We're still getting settled, but come visit to see the best selection of urine-diverting eco-toilets in North America. It's best to call first, as we're often on the road: 978-318-7033.  We're right next to Pecks Boats.
Conrad Geyser of Cotuit Solar has long been an advocate of urine-diverting toilets. He even makes them out of wood and fiberglass. Conrad's set-up, whereby he stores urine and combines it with water to irrigate and fertilize his verdant and very productive gardens, is featured in Liquid Gold: The Lore & Logic of Using Urine to Grow Plants.
Traveling along Route 28, you'll know you're near our building when you see a wind turbine, usually spinning, in the sky.
Cape Cod has long had problems with nitrogen pollution of its ponds and bays. Local state representative Matt Patrick has been calling on the state to recognize urine-diverting toilets as a viable way to divert and manage the most easily targeted source of that nitrogen: human urine.
We are setting up at least two demonstration systems at our new offices. More on that later.
Filed under
Ecovita
|
Comments Off

on New Ecovita office powered by sun and wind