July 1st, 2009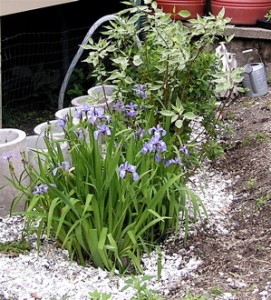 Wondering what to do with urine if you're not interested in collecting it for direct application?
A Growaway Garden is a garden specially engineered to growaway urine's nitrogen ecologically and in a contained planter, so no nitrogen discharges to the ground.  A system like this, especially if it is lined with plastic, can help you get permits for your system.
Ecovita will feature free plans here on the Web site soon.
Filed under
Do it yourself, How to
|
Comments Off

on Growaway Gardens manage urine
July 1st, 2009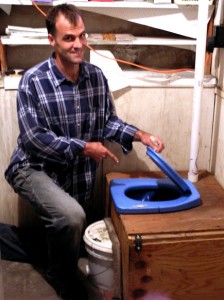 We conducted another composting toilet workshop, so we updated our free online plans for making your own very simple composting toilet with a Privy Kit. Go to the Privy Kit page or download Privy Kit Baja Box Directions.
We call it the Baja Box, because it was designed for one of Ecowaters' first workshops in Baja California Sur, Mexico.
The workshop was hosted by Pat Keaney (of Green Grease Monkeys), who installed a Baja Box toilet in his basement after our talk at his permaculture workshop in his home last year. Pat and his eco-toilet are shown above.
Why the basement? Many renters tell us they want a composting toilet but are unable to change their bathrooms. The basement is often a place with extra space and it has an easy way to vent the toilet: through the small windows near the ceiling.
Filed under
Customers, Do it yourself, Ecovita, How to
|
Comments Off

on Do-It-Yourself Privy Kit plans updated
July 1st, 2009

 
Ecovita customer Susan Carpenter is a reporter at The Los Angeles Times. Recently, to respond to California's drought, she purchased a Privy Kit from Ecovita. Taking a cue from our photos of customer installations, she purchased a ready-made wooden box from Orchard Home Supply and inserted the Privy Kit, with a container inside (Susan didn't have a photo for us…). She writes about her experience here:
THE REALIST IDEALIST: Taking the Plunge with a Composting Toilet

Filed under
Customers, Do it yourself, Ecovita, How to, Media mentions
|
Comments Off

on Ecovita customer report in The Los Angeles Times!