EcoDry Urine-Diverting Toilet
The EcoDry Porcelain Urine-Diverting Toilet provides an attractive urine-diverting option for making your own composting toilet system (with an aerated barrel or other container) or to reduce the load on a below-floor composting toilet.
By keeping urine separate, potentially polluting nutrients are kept away from nutrient sensitive ponds, lakes, seashores, and groundwater.
Most users choose the EcoDry simply to create an easy-to-maintain odorless composting toilet systems that looks great and is simple to operate.
$599
+ shipping
Note:
EcoDry toilets are a great bargain, given that you can make an inexpensive under-floor composting toilet and use this attractive stool with it.

Click here to download a PDF brochure


Porcelain toilet: Length: 23 inches; width: 15 inches; overall height: 18 inches; seat height: 16 inches
Water connection: 1/2 inch
Urine drain: 3/4-inch pipe to be connected to 2-inch PVC pipe
Solid waste opening: 8-inch PVC, fiberglass or other (not included)
Call to order
One installation option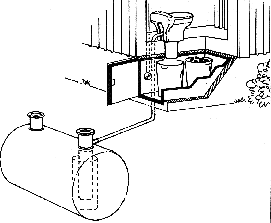 Note: Shipping costs can be significant due to porcelain's vulnerability in transport.